And Baby Makes Four
From Charmaine's (my sister-in-law) Babypeeks journal:

i just got back from 4d fetal imaging in san jose (www.4dfetalimaging.com). i was sooo excited to get an ultrasound. my appointment was at 3 p.m. today (30 august 2005). i'm almost 38 weeks (by thursday, september 1 to be precise).

my parents and mick went with me. my sisters had school so they weren't able to make it. when the 1st image was projected onto the wall, it looked like a regular 2d ultrasound. they use the 2d as a guide that's why it would switch from 2d to 3d.

the images weren't that clear. it's probably because i didn't have a lot of amniotic fluid. but oh well...it was worth the experience. i enjoyed seeing and confirming that my next baby is going to be a girl!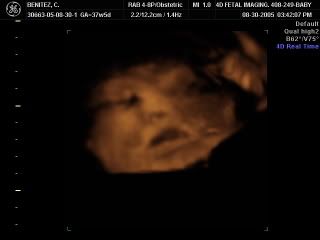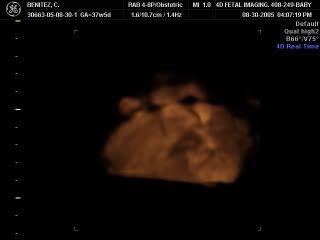 Madison Alexi Benitez-Sabitsana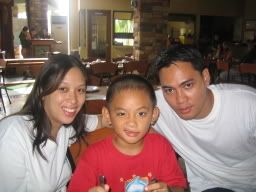 The not so complete family picture. Char (with baby Madison inside), Mick and Santi




I can't wait to see my niece! I'm sure she'll be good looking, smart, vivacious, charming etc. etc. I mean how can she help it? It's in her blood :)

You can count on one thing for sure, this won't be the first and last time I'll be writing about her. I'm so gigil na :)