Bulletin Board
For all the mommies and daddies of hip and happening babies, this one is specially for you:

I'm selling baby slings, specifically rings slings at 1,000 pesos (delivery fee of fifty pesos in Metro Manila and shipment fee to province to be paid by buyer outside of Manila). The sling fabric is 100% breathable cotton and is best for our warm climate. Each sling uses nylon rings (and soon also aluminum rings) that have gone through a 250 pound pull test. Can carry babies up to 35 pounds.

Baby slings are better than most carriers in the market because when used correctly ensures a child's correct positioning. Most plastic carriers in the market do not because the baby is positioned such that he/she is hanging by his or her crotch. Also in those carriers when the baby is carried facing the mother/father, with each step, the child's knees are pushed backwards. So there is undue stretching and stress on the babies hip joints.

Plus most carriers in the market are made of plastic and so not breathable.

The slings are also a great help for Breastfeeding mothers because they can actually nurse their babies' hands free!

If you want to read more on the benefits of carrying babies in slings click on the link below:

http://www.kellymom.com/parenting/sling.html

http://www.askdrsears.com/html/5/T051100.asp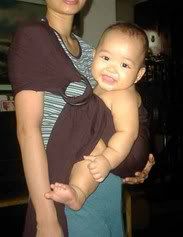 Please contact me through 09178433891, 9317660 or

ryankachupi@gmail.com for orders

Here is a picture of my baby in a sling and i'm also attaching pictures of the current fabric i'm using for the sling. The cotton twill is thicker than the stretch and the linen. We buy fabric on a regular basis so if you want to suggest a color or style of fabric then maybe we look for it for you:-)

Ella





********************

I first met Isabel through Diane's blog.

It's sad just how much someone so young has had to endure in her short life.

Cards and letters to show support will be very much welcome. Snail mail it here:

Isabel Coupland
5000 Inspiration Dr.
Hilliard, OH 43026
USA

Keep safe everyone! Happy weekend!