Purist
I'm usually not very picky (those who say otherwise have no business reading this... :) but I just cringe whenever I see these, for a lack of a better term, mutations. I mean I'm all for creativity and such, but there are just some things which should be off limits if only in deference to their sacred nature. The things that rile me up are:

1. shampoo and conditioner in one- shampoos and conditioners have diametrically opposing functions in life. A shampoo is meant to clean the hair (strip the nasty oils and gunks from your tresses) while the conditioner is meant to coat the hair with amino-pro-v goodness and other what-have-yous. So how can one product remove and replace something at the same time?! And how does your "shamditioner" know which to remove and which to retain? Does it have some sort of guiding mechanism which enables it to differentiate the bad oils from the good oils? Are the amino acids/pro-v mini capsules set on time release so as soon as the hair is squeaky clean they can do their thing? Is this where our defense budget goes to?

2. flavored tikoy- we now have around 5 boxes of tikoy in our fridge and not one of them is the regular white kind! There's two boxes of ube, two of sweet corn and one of pandan. Regular white tikoy best exemplifies the saying that "If it ain't broke, don't fix it".

3. macapuno, buko salad, durian etc ice cream- although I'm more adventurous when it comes to ice cream, I still can't stomach the fruit salad flavor, it's just too surreal for me. I wonder if the ice cream mob even conducted research when it came to the fruit salad variety, or perhaps some prankster just inserted it into the line-up in an attempt to derail the normal flow of society.

So there. It's back to Specpro for me. Saturday night down the drain.

Here are some pictures of happier times. These were taken in Cebu last semestral break.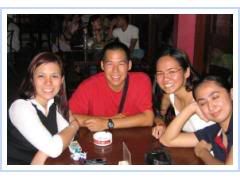 WithTessa,

Aaron and Fran at some bar in The Village.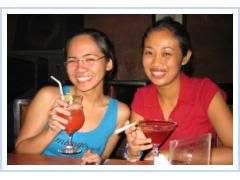 With
Ariane
at some bar in Crossroads. I could be wrong, but I think I'm holding a long island iced tea. Three of those babies in one night made me veeeeery happy.
All right already! It's back to the Rules of Court for this one. I'm so wawa... :(