Bohol Diary
We left Cebu on board a ferry at around 7am, we arrived at Tubigon, Bohol 2 hours later and immediately began exploring the Bohol countryside. (Tip: Bohol is best experienced when you have your own private vehicle. Public transportation is virtually non-existent there and the car rentals can add up to quite a pretty penny).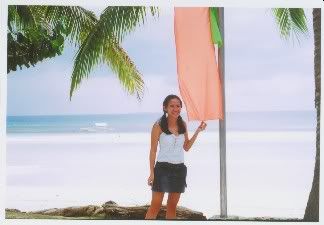 We arrived at Dimaluan Beach, Panglao Island and I was mesmerized at just how white and long the shoreline was. Unfortunately, we were told that all the rooms were already booked because there was currently a Boysen sponsored architects convention and all the resorts in the area had been utilized for said convention.

In short, good luck in finding accomodations if you failed to make a prior reservation.

But we did not lose hope and continued trekking the beach looking for lodgings. We found some vacant cottages in the public beach area, and although I do try not to be a snob, there was just no way in hell I was going to spend the night in that rat-hole of a cottage! I guess we all felt the same way so we forged on and ended up in Alona Kew. A much, much better resort with nice and reasonable lodgings to boot.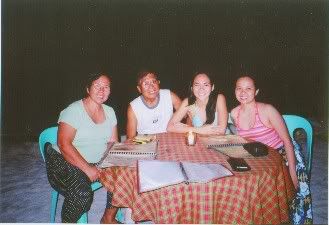 We spent the entire day swimming in the pool, lounging by the seashore, stuffing ourselves silly with our baon from Cebu (Mommy Lou had prepared enough food for ten people for the trip to Bohol) and sipping ice cold fruit shakes (which sadly did not have those little umbrellas). Come dinner time, we hied off to one of the many restaurants along the beach and ate some more. It was a cool and windy night and I was dark from swimming the entire day and I was just about to nod off from sheer "kabusugan". Yep, it was definitely a good day.
The next day was devoted solely to sight-seeing (we had to skip spending another night at Alona Kew because Ate Grace had some emergency doctor business to attend to) and so we donned our tourist caps and played said role to the hilt.
The Blood Compact Shrine is a must-see for every tourist, if only for it's historical significance (which sadly escapes me as I write this entry). It overlooks the sea and, again, I was transfixed at how blue the sea was. But that did not stop us from goofing off with Legazpi et al (see picture).
We also stopped by the Baclayon Church and even viewed their museum of religious articles. It's amazing just how many outfits Sto.Nino and Virgin Mary had, it would have warmed the cockles of every fashionistas heart.
A close encounter with the tarsius kind is next on every tourist's itinerary. Unfortunately, the DENR already prohibits touching or holding the tarsier (apparently, doing so greatly stresses the poor animals...) so that definitely ruled out my grand plan of posing with a tarsius on my shoulder. Oh for shame!
The pic is of a mommy tarsier and her months old baby. I was worried at the possible long-term effects that tourism might have on them because it's probably unnerving to have giants shove lightning boxes at your face every single day. And the tarsius is a nocturnal animal with sensitive eyes, so how will the flash affect their vision? Hmmm...
We passed by the Loboc River and also saw the Loboc Musuem. You know, touristy things. But what took my breath away was the man-made forest. I don't know if there's a specific tour for that, but just driving under the canopy of leaves was more than enough for this tourist. Galing.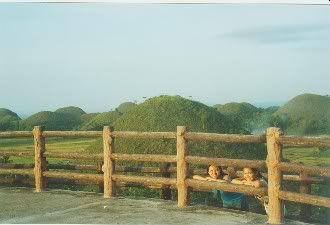 Of course, what would every trip to Bohol be without the Chocolate Hills? We first went to the Carmen viewing deck and then to the other viewing area (I forgot what it's called but it had a butterfly farm and there was even a streamer advertising a Halloween disco party...good luck). First off, they're not actually made of chocolate but of limestone. Now that we have that part straight, there was a very informative plaque about how the hills were formed, how many hills there are etc. From the viewing deck, you could see a school house and I imagined just how amazing it must be to see the Chocolate Hills while daydreaming during school time. Of course, I bet the locals already see the Chocolate Hills as part of the fixture and are no longer awestruck with their grandeur as the typical giddy tourist tends to be.
So there you have it, Bohol in two days.
Tara na, byahe tayo!
Nang ating makita
Ang ganda ng Pilipinas
Ang galing ng Pilipino