Self-Improvement
Today's swimming session with GB and Suizy made me realize just how out of shape I am! Of course, I've never exactly been a triathlete (although I do try, does that count?) but the extent of my lampa-ness didn't quite sink in until today. While my friends clocked in 45-50 laps in the Club's main pool, I was able to do a grand total of 12 laps! And every one of those laps was sheer torture for my underworked arms and legs. So I now vow to move my ass more and get into a regular exercise program, and maybe by then I'll be able to keep up with them machine-like girls. Promise :)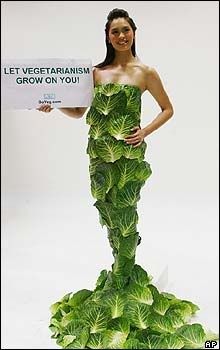 Since I seem to be on a roll with this self-improvement bit, I think I'll also try to become a little less of a meat eater and commune more with the green and leafy kind. Of course, this morning's bacon experience showed just how strong my willpower really is (mmm...bacon...) but that was merely a minor setback. I still think that I can pull off a victory with this one.
The entire household, particularly my mom, seems to be jumping on the healthy bandwagon too. My mom posted a list of "bad foods" (i.e. white rice, white bread, soda, alcohol) and their healthier alternatives (i.e. brown rice, wheat bread, fruit juice, water). Then the reminder to "Exercise! Be fit!". Of course, all this was qualified with: If you can't avoid the following unhealthy food, just don't forget to pray.
However, I don't plan on becoming a full vegetarian because that would be way too difficult (a special menu would have to be prepared just for me because I don't think my family will turn vegetarian any time soon) and I just love chicken too much (mmm...chicken joy...). But I am going to totally exorcise pork from my life and cut down on beef and greasy food. Promise. Maybe if I become less of a carnivore, I'll end up looking like Isabel Roces (the model in the picture). Somehow, I really think that I'll also look good in a pechay gown.
I watched "The Stepford Wives" today and if the movie's premise is correct, that men want their women to be feminine, always put together and at their beck and call at all times, then, boy oh boy, am I in trouble. That's probably the reason why I'm still single up to now (and also the undeniable fact that I'm just plain picky and maarte). Maybe I should also start wearing frilly dresses and churning out layer cakes, then maybe, just maybe, I'll have a little geek to call as my own too. But I don't think I can ever do a complete Stepford change, I like wearing pants too much.