Travel Time
The travel bug has definitely taken a huge bite out from this family.
The virus first hit Drago and Margot and accompanied them all the way to Calatagan and Boracay.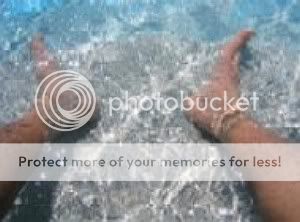 Right now, Sir Ed has put on his travel cap once again and hied off to Dumaguete. He plans to visit Apo Reef daw.
I've only been to Galera since summer started, but next week brings about a wonderful change in venue as I go to Cebu (makikipista ho!) and then on to Bohol. Where I can finally accomplish one of my dreams in life, that being a photo-op with a tarsier. Damn the Chocolate Hills and Loboc River, I just want to get near those bug-eyed mammals.
Santi, Char and Mick also went to Bohol for the Holy Week, and to Galera before that. Mick had tons of pix taken with a tarsier! Thus fueling my desire to have one of my own too. Oh yes, you will be mine...
As with Krissy, she's been a virtual boarder at home (only stopping by to deposit dirty laundry and to get clean clothes) ever since Chiki arrived from Cebu. They've been staying at hotels, touring the metro, watching PBA games and doing the grand mall tours. Today they plan on watching MTB (definitely my sister's idea) and I'm just positive that she'll be wearing some bright color and texting the moment a camera swings by their way. My sister, the ham.
Melo hasn't been anywhere since summer started! Tsk-tsk-tsk nag summer classes kasi si Milo e. However, the gremlin has been boxing at Wildcard (where he gets to hang out with the likes of Manny Pacquiao) so I think he's pretty content staying at home, near his beloved gym.
Francis and Candice also visited us from Cebu last March. They too played tourists and visited Baclaran, Quiapo, Greenhills, Megamall, Enchanted Kingdom, Splash Island and Batangas.
Tita Violeta is again visiting from the States just to attend the fiesta at Moalboal. She just has to be my most favorite tita. My ears always perk up whenever I hear her name mentioned because she's such a character.
Every time she's here, she goes all around "para magpabeauty", as she terms it. She has her hair permed; her warts cauterized; shops for a new wardrobe and goes ballroom dancing all night long. However, her last visit was different because she had liposuction done on her abdomen and arms and had her eyefold fixed. I was away at the dorm when she went under the knife and was so excited to come home and see what the results were. Unfortunately, she wore a robe the entire time so I was unable to see her overhauled figure. As with her eyes, maybe it's just me, but I really didn't see any difference! That's plastic surgery for you.
I'm sniffling and sneezing while typing this because a different type of bug has also caught up with me. But the thought of having unlimited internet access once more and packing my backpack once again has already more than cured me. Hallelujah!